Dr. Alexandra Maria Malciolu-Nica
Ophthalmology Specialist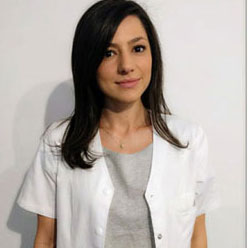 Detalii
Alexandra este medic specialist oftalmolog și proaspătă mămică.
Din liceu și-a dorit să practice medicină, iar după un timp a realizat că își dorește o specialitate de mare finețe că oftalmologia. Ochiul este considerat oglindă corpului și sufletului, astfel încât o consideră o specialitate complexă ce necesită logică dar și imaginație.
În timpul liber îi place să citesca, să călătorescă, să fac sport, însă adoră oftalmologia. După ce a devenit mamă, își dorește să o inspire pe fiica ei și să fie un exemplu bun pentru ea.

Citatul favorit: " Most people think they need to make a better world for their children, but the reality is we need to make better children for our world" - Carlos Slim
A absolvit Facultatea de medicină și farmacie "Carol Davila" București, și-a finalizat rezidentiatul la Spitalul Militar Central București și în prezent este medic specialist oftalmolog la Spitalul Clinic de Boli Infecțioase și Tropicale "dr. Victor Babeș" București și part-time, la clinică Oftalmix București.

A participat la multiple congrese și cursuri de perfecționare atât în țară cât și în străinătate. Pacienții consultați sunt de toate vârstele, de la nou-născuți la vârstnici și sunt tratați cu profesionalism și entuziasm.